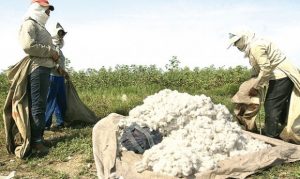 IMAR COSTA NORTE Y CÁMARA DE TURISMO TRABAJAN EN BENEFICIO DE ALGODONEROS
Ventaja. Proyecto permitirá el comercio de los productos en países europeos. Chiclayo. El Instituto de Apoyo al Manejo de Agua y Riego (Imar) Costa Norte y la Cámara de Comercio y Turismo del Perú en Luxemburgo vienen impulsando un nuevo proyecto que permitirá rescatar y mejorar las tecnologías ancestrales de producción agrícola y artesanal de algodón, en beneficio de los productores de la región. El director ejecutivo de Imar Costa Norte, Víctor Santacruz, indicó que los resultados de este proyecto serán a largo plazo y permitirán que los productos se comercialicen de manera efectiva y directa en los países de Europa. Precisó que el algodón nativo de nuestra región cuenta con siete colores, siendo una ventaja que logrará la combinación de éstos para la obtención de una gran variedad cromática.
"Lambayeque es rico en variedad de algodón nativo, un claro ejemplo es que por una hectárea de cosecha hay casi una tonelada de algodón. Es por ello que este proyecto permitirá que los productores adquieran capacitaciones para emplear otras tecnologías y aumentar las ventas de sus productos finales", puntualizó. Por su parte el representante de la Cámara de Comercio en Luxemburgo, José Villar, aseguró que los resultados del proyecto generarán un sinnúmero de empleos tanto en la región como en el exterior. Resaltó que la materia prima es una gran alternativa económica para la región Lambayeque. "Los productos finales como la artesanía son exhibidos en diferentes hoteles del extranjero"
Fuente: La República.
---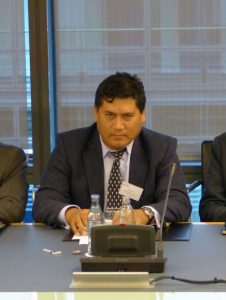 LUXEMBOURG RESIDENT RECEIVES PERUVIAN AWARD
Jorge Villar Vargas, president of the Chamber of Commerce and Tourism of Peru in Luxembourg (CCTPL), has been awarded a Peruvian accolade, recognising his work in the Grand Duchy for his work towards Peruvian nationals living here. Each year, the Ministry of Foreign Affairs of Peru consults with all consular districts of the world, concerning Peruvian citizens to be considered a special recognition award for their social work benefiting other Peruvians, including maintaining ties with their homeland. In July, the CCTPL filed in July a document nominating Jorge Villar Vargas for the award. On the Day of Peruvians Living Abroad, the announcement was made that the CCTPL president has indeed been honoured with the award.
18 October every year is designated the "Day of Peruvian Residing Abroad"; on this day, ten Peruvian nationals living around the world are recognised as having excelled in their efforts to maintain and reinforce links with Peruvian communities abroad or have taken actions and legal aid assistance and caring for their countrymen. In 2013, Peruvians were recognised for their distinguished work in Buenos Aires (Argentina), Arica (Chile), Santiago (Chile), Valparaiso (Chile), Asuncion (Paraguay), Tegucigalpa (Honduras), Amsterdam (Netherlands), Bern (Switzerland), Madrid (Spain) and Beijing (China).
In 2014, the award has been bestowed on Roxana Angélica Ajipe Oshiro in Nagoya (Japan), Jorge Villar Vargas in Luxembourg (Luxembourg), Miryam Jennifer Jara Villegas in Amsterdam (The Netherlands), José Rosario Venturo in Rome (Italy) and Jhon Godoy in Stockholm (Sweden).
Source: www.chronicle.lu